Summer 2022 marks an exciting new chapter in the Light Blue saga, with a new campaign featuring iconic campaign stars David Gandy and Bianca Balti reunited in the magical location of Capri. Additionally, Dolce&Gabbana Beauty presents two new limited edition fragrances, Light Blue Italian Love, for him and her. Inspired by the Mediterranean, these two exquisite fragrances enrich the collection of classic Light Blue fragrances, perfectly capturing the passion and energy of summer on the sea.
The new advertising campaign for the perfume "Light Blue"
Dolce&Gabbana Beauty embodies the spontaneity and emotional playfulness of the iconic Light Blue duo, David Gandy and Bianca Balti, with a new advertising campaign for Light Blue Eau de Toilette. Corsair. The film follows a glamorous couple, who vacation on a captivating island enjoying a sunny Mediterranean summer, and reveals a new, pure and deep intimacy in their relationship. The original campaign celebrated the power of their charisma with a story of stormy seduction for the early days of passion in a business. Now, their love has evolved, and the new campaign features a couple who know each other inside out – a couple who laugh, play and argue, but still with the same spark of passion that ignited their happy love. Against the backdrop of Faraglioni rocks, and to the rhythm of Parlamid'AmoreMariù, director Steven Brahms reveals sudden and unexpected moments – in naughty and instinctive expressions of love, we peer into the intimacy of a shared life of tenderness and everlasting love.
"Light Blue Eau de Toilette"
Light Blue Eau de Toilette
Light Blue evokes a Mediterranean woman who easily adapts to her femininity. Created by Head Perfumer Olivier Cresp, Light Blue is a fragrance that perfectly captures a woman's natural allure, capturing the essence of a lush summer's day, with vibrant floral and fruity scents that speak of the days of the captivating island of Capri. The sparkling freshness of Calabrian lemon and crunchy Granny Smith apple, softened by a feminine bouquet of jasmine and pure white rose, leads us to the sensual warmth of cedar wood, amber and musk.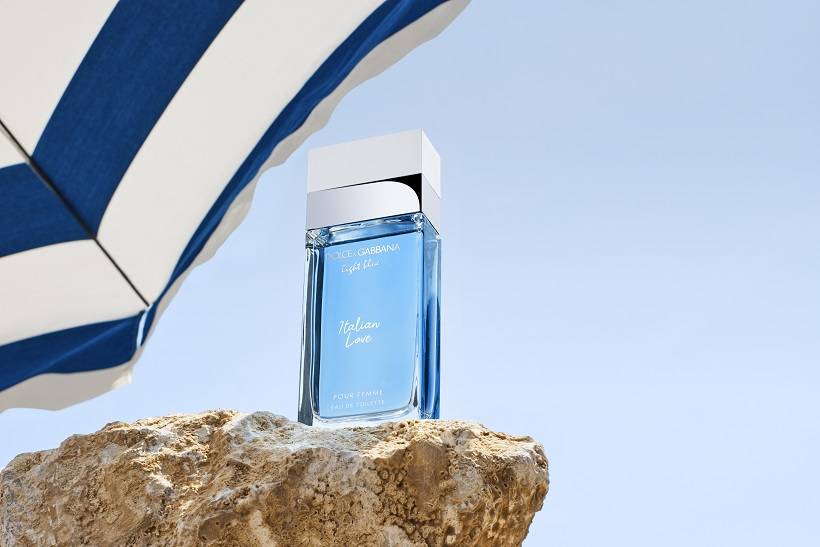 "Light Blue Eau de Toilette For Men"
Light Blue Eau de Toilette for Men
Light Blue Pour Homme Eau de Toilette embodies the spirit of fun and adventure, full of charisma and vitality. Created by renowned perfumer Alberto Morillas, the scent reflects this new energy through a refreshing blend of Middle Eastern citrus fruits: Italian bergamot, soothing Sicilian mandarin, and cool, refreshing Indian lemon. Its masculine allure is underlined by the striking contrast of aromatic extracts of rosemary and sensual rosewood enhanced by the spicy scent of Sichuan pepper and refreshing juniper berries. Frankincense, oakmoss and seductive musk form a warm and captivating woody base that enhances its strong appeal.
Light Blue Italian Love
New Perfume Limited Edition Summer 2022
Dolce&Gabbana Beauty captures the essence of deep passion and summer intensity with two new limited edition fragrances: Light Blue Italian Love, for him and her. The fragrance duo introduces new woody notes to create a strong sense of addiction and sensuality. Light Blue Italian Love Pour Femme is a sensual and fruity floral blend with a new woody dimension, while Light Blue Italian Love Pour Homme is a lemony blend of citrus notes, composed of intense woody layers that convey the power of summer passion .
Light Blue Italian Love For Women
Light Blue Italian Love Pour Femme is the creation of Head Perfumer Olivier Cresp, the famous nose behind the original Light Blue Eau de Toilette. The fragrance begins with the iconic Light Blue top notes, an addictive duo of crunchy Granny Smith apple and tart Calabrian lemon, extracted using the traditional technique of separating oil from citrus peel known as smoker and allowing to recover the essence and the juice of the lemon entirely. The heart of the fragrance opens with a feminine bouquet of fresh jasmine and pure white rose, made even more sensual by the sweet and musky accord of fresh ambrette. This sensual heart slowly turns into a seductive base with a new woody addiction. Virginia cedar's signature trail, intertwined with warm amber and white musk, creates a fresh texture with a whiff of amyris extract that fills the base with woody warmth. This balsamic, leathery note blends perfectly with notes of vetiver, enhancing the characteristic woody base with light layers of creamy sandalwood.
Light Blue Italian Love For Men
Light Blue Italian Love Pour Homme reveals a new sense of masculine sensuality, created by perfumer ShyamalaMaisondieu. Top notes of Italian bergamot and juicy Indian lemon – the cold-pressed rind – create a fresh cocktail for the top notes, instantly transporting the senses to the famous citrus orchards of Capri. These sparkling citrus notes crystallize into an intense new masculine heart, embraced by fresh green notes that combine with violet leaf and the cool aquatic flow of marine ozone tones. The heart notes of azure sea water are based on cashmere woods, which evolve into a new sensual woody touch as the base lightens. As earthy vetiver blends with musk and the mysterious undertone of patchouli, the full notes of guaiac wood add new depth and intriguing sensuality.
Packaging
The bottles share the distinctive silhouettes of classic Light Blue fragrances, but today they reveal the fragrances most intense blue color within, reflecting the deep azure tones of the sea around Capri. The two bottles complement each other perfectly, each adorned with shimmering silver accents, evoking the dazzling rays of the Mediterranean sun shimmering on the waves. Each bottle is housed in a box painted in cheery blue and white stripes, mimicking the famous striped umbrellas, beach huts and loungers that adorn the bays of Capri.
window.fbAsyncInit = function() { FB.init({ appId : '306312436238820', xfbml : true, version : 'v2.2' }); };
(function(d, s, id){ var js, fjs = d.getElementsByTagName(s)[0]; if (d.getElementById(id)) {return;} js = d.createElement(s); js.id = id; js.src = "https://connect.facebook.net/ar_AR/sdk.js"; fjs.parentNode.insertBefore(js, fjs); }(document, 'script', 'facebook-jssdk'));